Ideas that move Fidelity forward.
The Fidelity Center for Applied TechnologySM, or FCATSM, is a catalyst for breakthrough achievements in research and tech. We assess, test and scale concepts and ideas that advance Fidelity's market leadership and enhance every customer's experience. FCAT teams are curious, inquisitive, and intently focused on the future.
The Future Is Now
The Next Generation of Technology
Watch and see how FCAT is exploring the future, working on a host of rapidly evolving technologies which may positively impact the firm and its customers.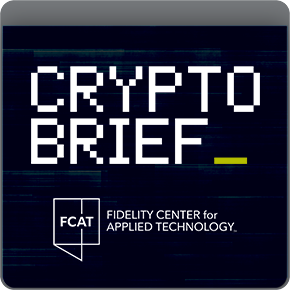 Podcast
FCAT Crypto BriefTM
Looking for timely commentary on crypto, blockchain, DeFi, and the intricacies of the ecosystem? Listen in as our working technologists dig beneath the surface and analyze the latest news and trends. The FCAT Crypto BriefTM is a lively, 30-minute roundtable forum where some of most important stories are dissected and discussed. Join us every week as your hosts – Jason, Jack, Ryan, and Parth – point out what's up, and prepare us for what's next!
Thinking Ahead
FCAT teams are always looking beyond the horizon. We analyze social trends and experiment with an array of technologies that may impact Fidelity and its customers over the next five years. 
ARTIFICAL INTELLIGENCE
BY: Elton Zhu | September 21, 2022
In collaboration with Czech Technical University, FCAT released a paper analyzing the effect of noise on variational quantum algorithms. Variational quantum algorithms are a family of algorithms where an optimization algorithm implemented on a classical computer evaluates a parametrized quantum circuit as an objective function. The researchers obtained the missing guarantees on the rate convergence in the presence of noise.
Blockchain
BY: Travis Beaulieu | September 16, 2022
Bitcoin's revolutionary design offers a new approach for financial inclusion, distributed ownership, and enforced scarcity. As it has grown in value, however, new narratives surrounding bitcoin's utility have also emerged. A rocky performance year-to-date and sensitivity to macroeconomic indicators suggest that bitcoin is still finding its footing.
ARTIFICAL INTELLIGENCE
By: Sarah Hoffman | August 23, 2022
For non-technical folks, starting an online business used to mean finding (and hiring) a developer or chief technical officer. No more. Thanks to no-code development tools, anybody who can access a keyboard can build a business. Justin Welsh built a one-man online business that generated over $1M in revenue in 810 days without writing one line of code.[i] Hello Prenup, which helps couples write low-cost prenuptial agreements, was also built with no-code software.[ii] These successes aren't accidents.
FCAT
Digital Asset Tracker
Use Digital Asset Tracker to aggregate and track your cryptocurrency portfolio on your iPhone. Learn more.